CHLOE
CH. Calisun The Devil's In The Details
(ret'd)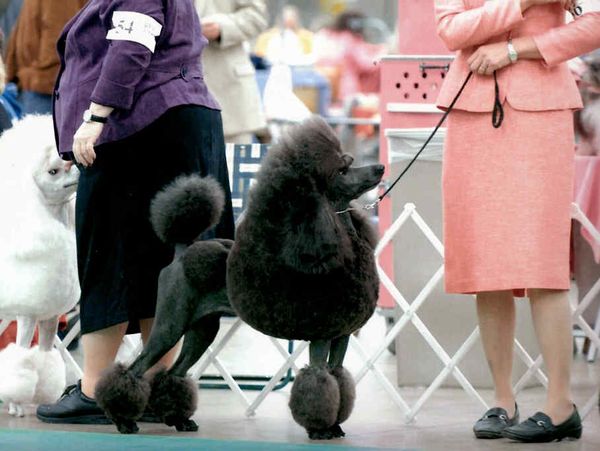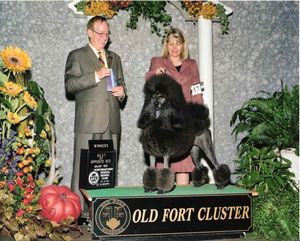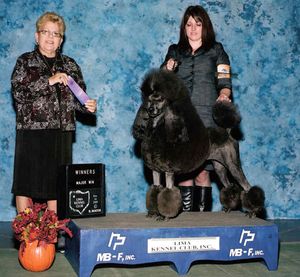 ---
Chloe occupies a special place here at Calisun as our first home bred Champion!
 She is the daughter of my Casey (Ch. Britmarc Dream A Little Dream), and Michael (Ch. Kaylens I Believe I Can Fly), and has her mother's beautiful blue coloring, though I believe she'll be darker than Casey. She's a more refined version of her mother, thanks to Michael's contribution – fine boned, beautiful feet, pretty head and eyes, short backed, lovely movement. Chloe is Miss Personality!

Tiny from birth, at eight weeks Chloe was still barely half the size of the rest of the litter. I planned to keep her a little longer to let her "catch up" before placing her. But then, she was everyone's pick of the litter for conformation, for temperament, for obedience potential! Great things often come in small packages. She stayed! Remaining small, she was entered in just a few shows as a puppy to "get her feet wet" and came back out in September 2009. Chloe has matured into a beautiful petite girl, just under 22". She creates quite a beautiful picture in the ring, and also in my heart!

Chloe has a wonderful personality – rambunctious and playful, sweet, nosy, a world class squirrel hunter! She is my burglar alarm and my alarm clock, waking me up in the morning with a cold, wet nose on my cheek - - - "Get up! It's another day and time to play!"  She also seems to have a bit of blue tick hound in there somewhere - she bays like a banshee when someone comes to the door!  

Sadly, Chloe is now retired from our breeding program, having been diagnosed with breast cancer at just under six.  Surgery successfully removed four tumors, and since her cancer was hormone related, she was spayed.  We are keeping our fingers crossed that she stays cancer free and lives with her usual abandon for years and years!  Chloe is a major hugger, and I would have been heartbroken if she hadn't made it!